Like most other towns in the beautiful Sonoran Desert of Southern Arizona, Vail is especially rife with trails for hiking, biking or horseback riding for outdoor activity. Arizona Pest Control Company embraces and supports towns like Vail, providing top-notch residential and commercial pest-control service before, during and after the sale since 1947.
Many homeowners don't start thinking about pest control until they see signs of ants, bed bugs, spiders, cockroaches or flying insects, like bees, wasps or hornets. This can be a stressful time, as pests can carry disease and damage your home and property. If you're searching for a pest control company in the Vail service area, the last thing you should do is rush to hire the first company you find. Arizona Pest Control wants you to evaluate us before making that important decision.
The Environmental Protection Agency website (epa.gov) lists several tips for selecting a good pest control company. They suggest doing your homework, and looking for quality, value and competency, i.e., taking into consideration how long a company has been in business, whether their technicians are certified and licensed, and if they will provide testimonials or online reviews. Arizona Pest checks all these boxes.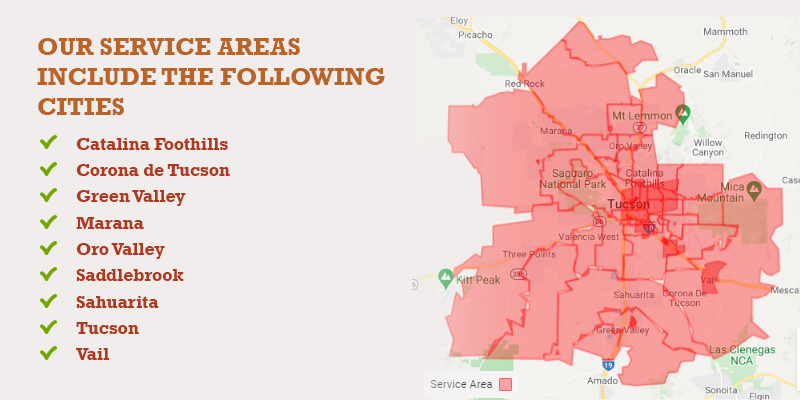 We are proud to be:
Locally  owned and family operated, serving Southern Arizona for more than 70 years
Better Business Bureau A+ Rated
The top pest control company in Tucson as voted by Arizona Daily Star readers two years running
A seven- time Angie's List Super Service Award winner
#1 Google-rated Tucson pest control company
Child safe, pet friendly and environmentally conscious
Check out Arizona Pest Control with a free, no-obligation inspection and quote, scheduled at your convenience (sometimes even the same day!). If you're stressed about pests, call the best – Arizona Pest Control Company – at 520-886-7378.
Vail Pack Rat & Rodent Control
You can try to keep pack rats from choosing your home, but it's good to know that with one call to Arizona Pest Control, you can send them packing without a second thought! They are more than a nuisance and, because they are nocturnal, are hard to spot and identify for the average homeowner. It's usually the destruction that signals a problem, such as rodent droppings; scratching or scurrying noises in your walls;  gnawed wood, wire, PVC, grill & pool covers; or destroyed automobile and truck wires. And because they move into areas where humans live, they can also bring diseases (like Hantavirus, Salmonella, tapeworms) and other pests – such as kissing bugs, brown spiders, mice and scorpions – into your home or business.
Arizona Pest has a proven track record for eliminating pack rats and rodents. If you suspect that your home has fallen victim to these crafty critters, contact Arizona Pest Control as soon as possible for a free rodent investigation. We'll inspect the area and give you a no-obligation evaluation of what we plan to do and a cost estimate. For more than 70 years, Arizona Pest has been providing a superior user experience, unparalleled service and exceptional results with our environmentally friendly rodent control solutions. Call 520-886-7378 today and sleep a little easier tonight.
You insure your car, your home, your life, …but can you insure that you won't get termites? Not likely, especially in Southern Arizona! The closest thing you can do is to enlist the services of Arizona Pest Control Company, number one in pest control as voted by readers of the Arizona Daily Star. For service scheduled around your needs, Arizona Pest will send one of our professional experts, trained in managing termite infestations and preventing future problems, to your home or business. These inspectors receive ongoing education to ensure that residential and commercial customers get the quality of service they deserve.
Of course there are some preventive measures you can take to try and keep termites at bay. Our friends at the University of Arizona Cooperative Extension offer this advice:
Inspect your home twice a year looking for signs of termite damage or activity, such as the appearance of dry brown tubes about the width of a pencil on inside or outside walls.
Maintain your home or shed to prevent moisture from getting inside the walls or within the structure.
Keep attics and foundations well ventilated and dry. Use screening over attic vents and seal other openings, such as knotholes and cracks, to discourage the entry of winged drywood termites.
Reduce chances of infestation by removing or protecting any wood that comes in contact with soil.
Prevent landscape plants and water from irrigation systems from coming into contact with the structure.
Chances are, no matter what you do, it's only a matter of time before termites find you. The Arizona Pest Control termite team has earned a stellar reputation as leaders in termite inspection and management for more than 70 years. We offer environmentally friendly termite solutions that are also safe around children and pets. And we'll solve your problems without causing others. Arizona Pest Control, a company you can trust. Call today at 520-886-7378.