You spend a lot of time in your home, especially these days. You redecorate, remodel and make it feel really comfortable, livable and safe. Don't forget to include pest control in your update! Arizona Pest Control Company is your one-stop shop for general pest management services and mitigation.
Stop pests – such as ants, bed bugs, cockroaches, wasps, bees, scorpions and spiders – before they take up residence in your home. Living in the desert means pests are a given; remember, we live in their environment. But when they invade our space it's time to call AZ Pest Control. Join the thousands of your neighbors who have already discovered and enjoyed our great, reliable service and child- and pet-friendly pest solutions.
We are proud to be:
The #1 company of its kind in Tucson as voted by Arizona Daily Star readers two years running
Family owned and operated for since 1947
Better Business Bureau A+ Rated
A seven- time Angie's List Super Service Award winner
Improve your health, allergies and peace of mind with a regular visit from AZ Pest Control, the most trusted name in residential and commercial pest elimination. Request a free pest control quote today and understand why our customers love to refer us! Call 520-886-7378.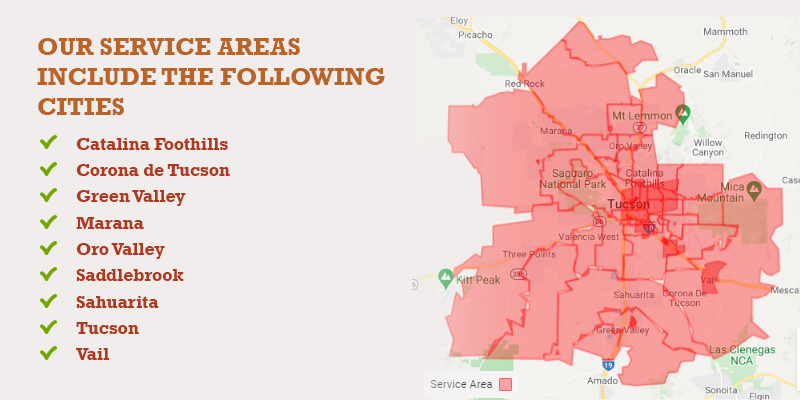 Tucson Pack Rat & Rodent Control
Rats! No one wants to see one – or more – in and around their home. While pack rats and other rodents are extremely common in Southern Arizona, and especially annoying in colder weather when they often find their way into desert cacti, cars and storage boxes to get warm. Hearty bodies and sharp teeth enable these small animals to wreak some serious havoc. Once mice and rats establish a nest in a dwelling, you'll have an especially difficult time getting rid of them. Unless you call Arizona Pest Control Company.
How can you tell if you have a pack rat or rodent issue? You might:
See holes, droppings or rodent footprints around your structure
Hear scratching or scurrying noises in your walls or attic (mainly at night)
Find gnawed dry goods packaging in your pantry or garage
Notice chewed electrical wires (which could ultimately cause house fires)
Chances are these nocturnal vermin are carrying diseases and causing structural and wiring damage to your home while you're in bed. Don't pack up or DIY it, as rodent infestations can be difficult to manage and eradicate with do-it-yourself methods such as poison baits and traps. The trained technicians at AZ Pest Control are skilled in the safest, easiest and most effective ways to remove these rodents for good. Let our professionals bring you peace of mind – and a good night's sleep!
Call 520-886-7378 for your free, no-obligation estimate today.
You know what they say about termites in Tucson…. it's not a question of if, but when you will get them. Though these pesky woodworkers are not poisonous or toxic, they can be extremely destructive to property and might cause allergic reactions and asthma attacks.
If you see evidence of termite infestation, such as shed wings or mud tubes, call the professionals at Arizona Pest Control Company, the leader in termite inspection for more than 70 years. Why choose AZ Pest Control?:
We employ one of the most advanced, effective and efficient termite elimination procedures, Sentricon Termite Colony Elimination System.
We are one of the few authorized Tucson operators of the innovative, award-winning Presidential Green Chemistry baiting system eliminates subterranean termite colonies by going to the source of the problem and killing off these wood-be pests!
Our termite inspectors receive ongoing training to ensure our residential and commercial customers receive the quality service and advanced technologies they deserve.
We also used Termidor, the most effective termiticide available to the pest control industry.
Our excellent standing with the Arizona Structural Pest Control Commission and our A+ Better Business Bureau rating confirms our reputation as the indisputable source for comprehensive termite control in Tucson and Southern Arizona.
Call today for an inspection and quote from Tucson's best termite & pest control company,
AZ Pest, your one-stop shop for all your residential and business pest control needs.
520-886-7378