Saddlebrooke Pest Control
Saddlebrooke residents have everything they need to enjoy life. Private resort-style amenities, a wealth of social-networking opportunities and year-round temperate weather make Saddlebrooke a wonderfully comfortable place to call home. Unless or until nasty bugs and critters want to share your happy habitat. That can turn your world upside down. But it doesn't have to.
Arizona Pest Control Company has been serving Southern Arizona for more than 70 years with a smile and a great reputation for pest management services. Family owned and operated, Arizona Pest knows more ways to rid your home of unwanted pests than there are activities to enjoy in Saddlebrooke!
Arizona Pest specializes in successfully removing ants, bed bugs, cockroaches, bees, spiders, scorpions, or any crawly thing that disrupts your life. But don't take our word for it. Just see what your neighbors are saying:
Voted number one pest control service in Tucson by Arizona Daily Star readers year after year
Consistent A+ rating by the Better Business Bureau for three decades
Seven-time Angie's List Super Service Award winner
#1 Google-rated Tucson pest control company
Improve your health, allergies and peace of mind with a regular visit from the friendly and knowledgeable professionals at Arizona Pest Control, the most trusted and distinguished  name in residential and commercial pest control. Request a free inspection and no-obligation estimate today and you'll understand why referrals are our main source of business. Call us at 520-886-7378. Same-day service often available!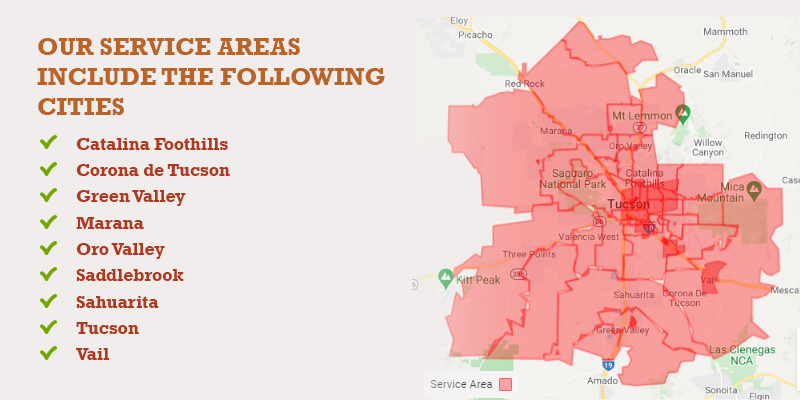 Saddlebrooke Pack Rat & Rodent Control
Nestled just beyond the limits of Tucson is the beautiful master-planned community of Saddlebrooke. And nestled around that neighborhood are the inevitable desert pack rats, just settling in for the season in your car, garage, attic or landscape. Watch out! These small-but-hearty sharp-toothed rodents can wreak some major havoc at your home or property.
Arizona Pest Control has been evicting pack rats and rodents from homes in Southern Arizona for more than 70 years. Our family owned and operated company offers environmentally friendly pest-control solutions that ensure the health and safety of your family. Our business and reputation are built on providing dependable and guaranteed service to all the residents of Southern Arizona.
Cute enough to look at, pack rats (also called wood rats) get their unusual name from their habit of stealing and storing household items. But unlike their human "pack rat" counterparts, these nocturnal creatures create problems for homeowners with their nesting and feeding habits by causing disruption and destruction to automobiles and property. Additionally, their nests can attract other pests such as kissing bugs, ticks, fleas, scorpions, and snakes, resulting in even more extermination problems! The certified and specially trained Arizona Pest Control technicians integrate pest management systems that work in harmony with nature to safely and effectively remove these pesky rodents from your property.
If you suspect you have pack rats, Arizona Pest Control offers free, no-obligation estimates. Call 520-886-7378 to speak with a friendly AZ Pest Control representative and rid yourself of unwanted pack rats today.
Saddlebrooke Termite Control
Picture this: it's another beautiful day in Saddlebrooke and you and your partner are headed to the Pickleball courts to even the score with your neighbors. You pick up your racquet and are heading for the door when you notice a mud tube on the wall in the corner of your dining room. That can only mean one thing: termites! Don't let this discovery ruin your day. You know you can call the termite professionals at Arizona Pest Control and they will make things right – guaranteed!
Though not poisonous or toxic, termites are known for being very destructive to property, causing more than $5 billion in damage in the US each year, according to the National Pest Management Association. Worse still is that many homeowners insurance policies don't cover termite damage, so infestation can be devastating if not caught early. And, because most termites do their dirty work out of sight, it can be difficult to spot the warning signs. Here's what to look for:
Swarming (happens during the spring when winged termites emerge inside the home)
Discarded termite wings
Bubbling wallpaper
Buckling wood
Swollen floors or ceilings
Visible mazes in walls or furniture
Holes or craters in firewood piles or stumps
Termite droppings (look like a tiny pile of sawdust)
Mud tubes on a wall or baseboard inside or outside the home
The best way to avoid getting termites is to be on the lookout for them and to hire a qualified pest-control company like Arizona Pest to inspect on a regular basis and treat as needed. The good news is you can eradicate termites and fix any residual damage without breaking the bank.  We employ one of the most advanced termite elimination procedures and the most effective termiticide available to pest control professionals.
Ensure the best, most successful pest treatment year-round with Arizona Pest Control. Call today for a no-obligation free estimate, 520-886-7378. Satisfaction is always guaranteed.