You chose to live in Sahuarita because it's clean, relaxing and conducive to an outstanding family lifestyle. The communities of Rancho Sahuarita, Quail Creek and Madera Highlands, to name a few, are chock full of fun, outdoor activities year-round. You want to share values, ideals and fellowship with your neighbors. But you don't want to share your home with bugs or rodents. So, when pests become a problem for you, you should be coming to us – Arizona Pest Control Company.
Family owned & operated, and providing residential and commercial services to Sahuarita and all of Southern Arizona since 1947, AZ Pest Control is an award-winning and trusted name in pest management. Join so many people in the Sahuarita community who have already turned to Arizona Pest Control for their pest management and servicing needs. Routine treatment keeps your home and yard pest- and rodent-free, and ready to entertain friends or serve as a sanctuary for your family to enjoy.
Sahuarita is one of Arizona's fastest-growing communities, located roughly 20 minutes south of Central Tucson on Interstate 19. Our friendly and highly trained service technicians are prepared to visit your home or office and offer A+ treatment (BBB rating)! Call us today for a free, no-obligation estimate. 520-886-7378.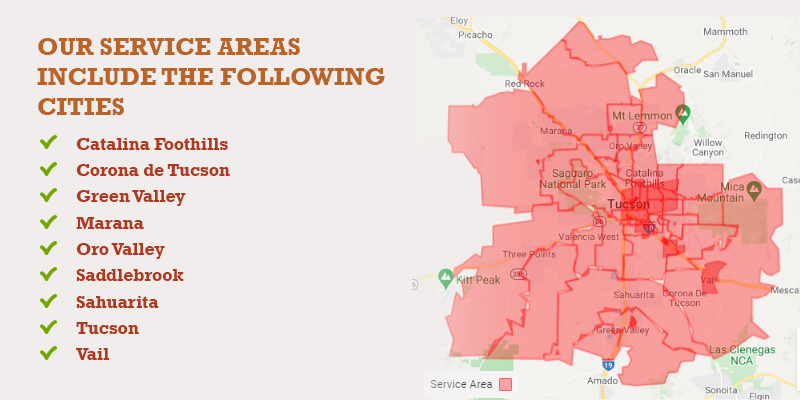 Sahuarita Pack Rat & Rodent Control
Sahuarita is home to the Desert Diamond Casino, so you don't want to roll the dice when it comes to your property's pack rat & rodent control needs. Arizona Pest Control has been voted #1 in the industry by the readers of the Arizona Daily Star two consecutive years. And we know how to double down against those pesky rodents and keep them gone for good!
Pack rats are commonly found in Sahuarita and throughout Southern Arizona. One pack rat is too many, and  you can be sure if you detect one, there are more. Telltale signs of infestation are: noticing holes, droppings or rodent footprints around your home; hearing scratching or scurrying behind the walls, especially at night; finding chewed electrical wires or gnawed dry goods packaging. Chances are you won't actually see these nocturnal rodents, just the disruption and destruction they can cause. Call Arizona Pest Control to inspect your property and develop a pet- and child-friendly treatment plan that won't cause you to cash in all your chips!
If you suspect you have pack rats, Arizona Pest Control offers free estimates, sometimes the same day! We're your ace in the hole for rodent removal! Call 520-886-7378 to speak with a friendly AZ Pest Control representative.
Sahuarita Termite Control
You found the home of your dreams in the town of Sahuarita that you love. But what happens when termites take up residence there too? These silent creatures are working behind the scenes to wreak havoc in your happy home. That's when you need Arizona Pest Control to restore peace of mind by effectively removing these pests.
Termites are tough to spot with the untrained eye, and can cause thousands of dollars in damage before you even realize you have a problem. In fact, termites are responsible for $5 billion in property damage every year, which is not surprising when you look at the size of their colonies. The average termite colony contains about 3 million members, although there have been several documented cases of colonies reaching more than 70 million termites in size!
Despite their incredibly small stature that typically measures one centimeter or less in length (almost impossible to see!), a termite's feeding habits are enormous. Termites have been known to cause much more extensive damage in homes and businesses than they do in nature, making termite inspection important on a regular basis and termite extermination critical at the first signs of trouble, such as:
Damaged Wood – termites eat wood from the inside out and leave a distinct pattern on the wood upon feeding.
Termite Tubes – subterranean termites create mud tubes across surfaces to not only protect themselves from predators and the environment, but also to allow them safe passage between the colony and their food source. Once spotted, you'll know immediately you've found termites, as mud tubes are one of the more obvious signs of termites.
Termite Swarms – swarmers are winged adult termites, considered to be the future kings and queens of a new colony. Swarmers are commonly mistaken for flying ants, so you'll want to consult your pest professional at AZ Pest Control to proper identification.
Discarded Wings – if you see piles of discarded wings around your home, then there's a good chance you have active termites.
Droppings – termite feces, also known as frass, are left behind after wood consumption. These droppings are typically wood colored and can be found around infested wood. Often frass resembles a pile of salt and pepper.
Clicking Noises – termites are noisy eaters, so if you listen at a wall you may hear them chewing.
Hollow Sounds – if you tap on the wall or structure and it sounds hollow, that could indicate termite damage.
If you notice one or more of these signs, you'll want to schedule an inspection with Arizona Pest Control immediately. Our highly trained and certified technicians will work with you to determine the best protection for your home. We use one of the most advanced and effective termite elimination procedures around, and are one of the few authorized operators of this system in Tucson and surrounding areas. And, as with all our treatment methods, it is child- and pet-friendly.
Don't let termites or other pests ruin the happy Sahuarita home of your dreams  Protect your investment with a call to Arizona Pest Control. Fast, friendly, award-winning service – call 520-886-7378.