There's much to do and see in Marana, from the awesome Saguaro National Park West nearby to the Tucson Premium Outlets at Marana Center. Marana is brimming with adventure, excitement, and fun for the whole family.
Arizona Pest Control has been serving the residents of Marana and Southern Arizona since 1947.We're brimming with pride over consistently being voted Top Pest Control Company by readers of the Arizona Daily Star and being a seven-time Angie's List Super Service Award winner. We're here to rid your home and your life of unwanted bugs and pests – like ants, bed bugs, cockroaches, wasps, bees, scorpions or spiders – so you can get back to the things that really matter.
Family owned and operated, Arizona Pest Control provides environmentally responsible pest control to commercial and residential customers and is a long-standing member of The National Pest Management Association. Call for a free, no-obligation general pest inspection; we'll be happy to send one of our highly trained, state-certified, bonded and fully insured pest technicians  to complete a thorough check of your residence, sometimes even the same day (if available). They'll review the findings with you and establish a plan that will fit your personal needs and schedule.
Residential and commercial, one-time or regular service, Arizona Pest Control will provide a free estimate and guaranteed service. Call 520-886-7378 for all your pest management solutions.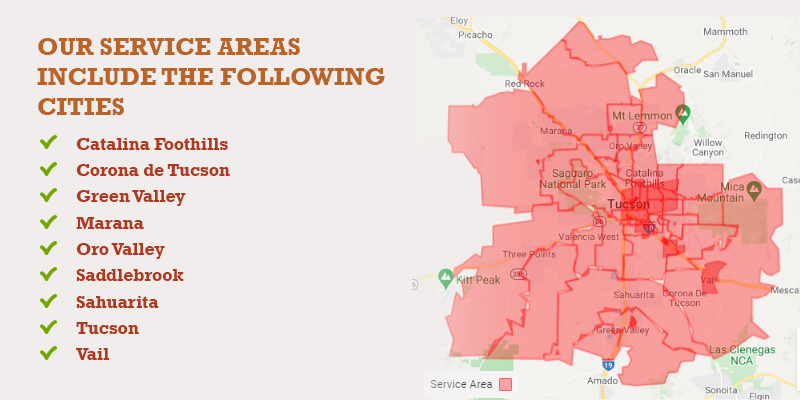 Marana Pack Rat & Rodent Control
Pack rats don't travel in packs. They actually live alone except when mating or rearing young. They derive their name because they have a tendency to pack away small objects, such as utensils, can tabs, jewelry or any other shiny items they find and bring to their nests. Pack rats can cause extensive damage to your Marana property, not only to landscaping but electrical wiring  or other mechanical components. They have been known to cause thousands of dollars in property destruction, done mostly at night when they are awake. Not only that, their nests can attract other pests such as kissing bugs, ticks, fleas, scorpions, and snakes, causing even more extermination problems! Want to send pack rats packing?  A call to the trained and certified Arizona Pest Control professionals to remove these creatures will get you back on track. But to help steer clear of pack rats and rodents altogether, here's what you can do:
Keep your property open and light and your attics screened.
Clear stacks of boxes, debris and junk.
Eliminate accessible hideaways.
Clear seed pods and leaves.
Don't leave pillows and cushions outside.
If pack rats and rodents have already taken up residence at your home, eliminate the problem with one simple call to Arizona Pest Control. We'll be out there quickly and remove them safely. Call today for your free, no-obligation estimate, 
520-886-7378
.
Tiny and blind, termites can strike fear in the hearts of any homeowner. If you're not reading this now because you have them, then chances are you will at some point in time. Though termites are not poisonous or toxic, they are very destructive to property. In fact, termite infestations are responsible for more than $5 billion in property damage every year – and the longer a home or business owner ignores the signs of termites, the higher the cost is to treat them.
If you don't want termites to eat you out of home and wallet, call the termite experts at Arizona Pest Control. In our committed quest to prevent and treat Marana's termite problems, AZ Pest Control termite inspectors receive ongoing training to ensure that residential and commercial customers receive the quality of service they deserve. Our termite team has earned a stellar reputation as leaders in the termite inspection and management industry for more than 70 years. Why choose AZ Pest Control?:
We employ one of the most advanced, effective and efficient termite elimination procedures, Sentricon Termite Colony Elimination System.
We are one of the few authorized Tucson operators of the innovative, award-winning Presidential Green Chemistry baiting system eliminates subterranean termite colonies by going to the source of the problem and killing off  these wood-be pests!
We also used Termidor, the most effective termiticide available to the pest control industry.
Our termite inspectors get ongoing training to ensure our residential and commercial customers receive excellent service and the most advanced technologies.
Our excellent standing with the Arizona Structural Pest Control Commission and our
A+ Better Business Bureau rating confirms our reputation as the indisputable source for comprehensive termite control in Southern Arizona.
Our treatment methods are safe for homes with children and pets.
If you want your termites terminated, there's only one choice – Arizona Pest Control. We offer safe, effective and guaranteed termite treatment every time. Call 520-886-7378 to speak with a friendly AZ Pest Control representative and schedule your free, no-obligation estimate.