Green Valley Pest Control
Don't let unwanted pests turn your Green Valley grin upside down! Arizona Pest Control Company is pleased to serve the residents of Green Valley – and beyond. Voted Top Pest Control Company by readers of the Arizona Daily Star two years in a row and a seven-time Angie's List Super Service Award winner, our pest control technicians know the meaning of the word "service." We'll treat you like family, because we are a family-owned and operated business and will work together with you every step of the way.
If ants, cockroaches, wasps, bees, scorpions or spiders are bugging you, call the company with the highest A+ Better Business Bureau rating – AZ Pest Control. Residential and commercial, one-time or regular program, we will provide a free, no-obligation estimate and guaranteed service. Call 520-886-7378 and we'll send one of our highly trained pest technicians – all are Arizona state certified, bonded and fully insured – to complete a thorough inspection of your residence, sometimes even the same day (if available). They'll review and  explain the findings with you and establish a plan that will fit your specific needs and schedule.
Arizona Pest Control Company has been providing Pest Management Solutions in Green Valley and all of Southern Arizona since 1947, with consistently favorable reviews, confidence and high praise from its thousands of customers. If you're stressed about pests, call the best – Arizona Pest Control Company – 520-886-7378. We provide peace of mind.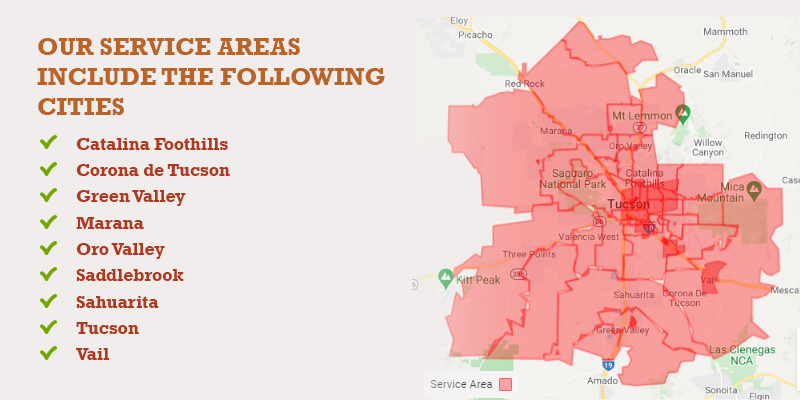 Green Valley Pack Rat & Rodent Control
What is nine inches long, weighs two pounds and wreaks havoc if it's in or around your home? Rodents and pack rats, also called wood rats, can be a real nuisance with their destructive ways. When you see evidence of them – holes in the ground or droppings near your home, scratching or scurrying through the interior walls, or gnawed or chewed electrical wires – that's when it's time to call the highly trained professionals at Arizona Pest Control Company. Located nearby in Tucson, we provide pest management second to none, as evidenced by A+ Better Business Bureau ratings, Angie's List service recognitions, and many consecutive Arizona Daily Star Readers' Choice Award wins.
Pack rats are extremely common in Green Valley and can create big problems by building nests under the hoods of cars, in the landscape and cacti, in large piles of wood or garbage, and even in attics. They can cause thousands of dollars in damage to automobiles and property.Additionally, their nests can attract other pests such as kissing bugs, ticks, fleas, scorpions, and snakes, causing even more extermination problems!
Rats are nocturnal feeders and hide out during the day. They need to be professionally eradicated, as placing poison out for them as a do-it-yourself means of removal may actually attract more rats than it will kill, and can cause serious injury to other desert creatures in the food chain. Plus, you need to remove their nests as well as the pack rats. That's when a call to the trained and certified Arizona Pest Control professionals to remove these creatures will get you back on track. But to help steer clear of pack rats and rodents altogether, here's what you can do:
Keep your property open and light and your attics screened.
Clear stacks of boxes, debris and junk.
Eliminate accessible hideaways.
Clear seed pods and leaves.
Don't leave pillows and cushions outside.
Don't put a loose cover over your grill.
If pack rats and rodents have already taken up residence at yours, eliminate the problem with one simple call to Arizona Pest Control. We'll be out there quickly and remove them safely. Call today for your free, no-obligation estimate, 520-886-7378.
Green Valley Termite Control
Termites thrive in Southern Arizona, especially areas such as Green Valley. These "silent destroyers" do damage without ever being seen by a homeowner. That's what makes them so destructive… until it's too late!
There are signs to look for: If you see any evidence of termites in your home – like mud tubes, discarded wings, blistering wood or paint, or frass (droppings) – it's time to call Arizona Pest Control for a professional termite inspection. Careful assessment will reveal which of several termite species (subterranean, drywood or dampwood) may be in your home and which treatment will be most effective.
With more than 70 years' experience, our termite team has earned a reputation of getting the job done right. Here's why AZ Pest is the obvious choice for termite control in Green Valley:
Our termite inspectors receive ongoing training to ensure residential and commercial customers receive the most advanced treatment technologies on the market today.
We are one of only a few Tucson operators authorized to use the innovative Presidential Green Chemistry baiting system that eliminates subterranean colonies by going directly to the source of the problem.
Our excellent standing with the Arizona Structural Pest Control Commission, and as an undisputed leader in comprehensive termite control in all of Southern Arizona.
Don't mess with the rest, hire the best – Arizona Pest Control – to remove your termites and deliver quality service. Call 520-886-7378 today for your free, no-obligation estimate