Catalina Foothills Pest Control
Catalina Foothills – home to incredible mountains and skies, myriad golf courses, restaurants by the score and nature at its best. Serene living and a connection to the environment is what attracts most residents to this niche community.
Outdoor living is a staple in this area, and when there's outdoors, there's bugs. An abundance of these pests, outside or in, can really disrupt your life. Protect your home and property by contracting with Arizona Pest Control, a family owned and operated business serving the foothills for more than 70 years. Arizona Pest specializes in successfully removing ants, bed bugs, cockroaches, bees, spiders, scorpions, or any uninvited crawly things. But don't take our word for it. Just see what your neighbors are saying:
Voted number one pest control service in Tucson by Arizona Daily Star readers year after year
Consistent A+ rating by the Better Business Bureau for three decades
Seven-time Angie's List Super Service Award winner
#1 Google-rated Tucson pest control company
Bugs can bring with them disease and cause allergies, itching or asthma issues you didn't even consider. For your health and well-being, consult Arizona Pest when critters become a nuisance. Continuous service results in the complete omission of pests and ensures extermination no matter what each season will bring. Let our highly trained and pleasant pest professionals deliver prompt and responsive treatment options for anything that bugs you. We use only child-, pet- and environmentally friendly solutions to pest management. 
Catalina Foothills residents spend a lot of time in and around their homes, so shouldn't they be pest free and enjoyable? Contact Arizona Pest Control for a free on-site inspection and estimate and say bye-bye to bugs. Call 520-886-7378 today.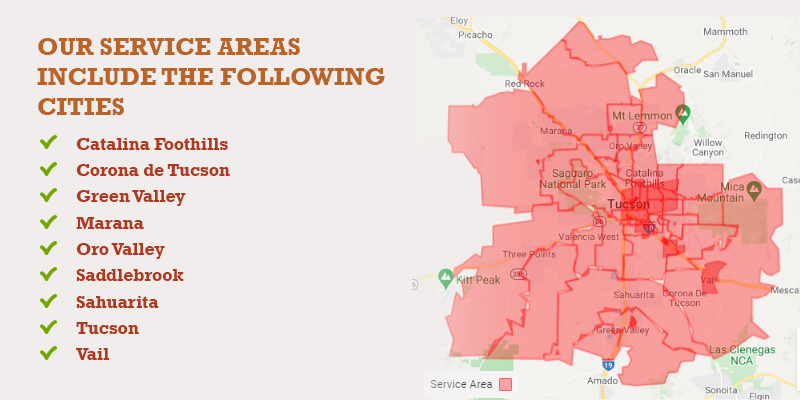 Catalina Foothills Pack Rat & Rodent Control
No doubt you've already heard the catchy Arizona Pest Control jingle about pack rats & rodents: "You can't hide, you can't run!" In business for more than 70 years, Arizona Pest Control knows what it takes to rid you home or business of disease-carrying, damage-causing rodents.
Even with Tucson's moderate climate, rodents will move into your home in search of food, water and shelter. While they vary in size and nesting habits, they all share the ability to cause damage to houses and spread diseases such as hantavirus and other pathogens, transmitted by infested fleas, ticks and feasting insects. Rodents can also infect food supplies, spreading salmonella to humans.
Most common in the Foothills are pack rats (also called wood rats), which cause relatively minor structural damage (unlike termites), but can and will chew and destroy wiring and landscaping. Their name comes from their penchant for collecting a variety of objects for their nests.
The key to rodent management is to deny them shelter and nesting sites. Here are some tips to help keep them from choosing your home:
Avoid storing boxes and other items on patios or along the sides of buildings and walls, as these give shelter to pack rats
Store firewood off the ground and away from walls or other obstruction.
Keep carports clear of stored items to eliminate hiding places.
If pack rats have been in a car engine compartment, have it steam-cleaned to destroy the scent and leave the hood open and lighted at night. Leaving the carport light on at night will also help.
Did you know a pack rat can squeeze through a half-inch hole? Be sure doors fit correctly and have door sweeps to help prevent entry. And ensure windows are screened properly.
Exhaust fans and ventilation vents on the roof/attic level should be screened.
Keep ground-cover plants cut low to the ground.
Do not allow prickly-pear cactus, agaves, aloe, yuccas and other cacti to grow in tight groups. Thin out dense cactus and landscape plantings. These make perfect pack rat nesting areas.
If these efforts don't help keep these pesky critters off your property, or if they've already managed to move in, call family-owned and operated Arizona Pest Control. Our technicians may not sing the jingle upon arrival, but they know how to make rodents feel unwelcome and "pack up" for good! Call 520-886-7378 for a free, no-obligation estimate.
Catalina Foothills Termite Control
If you have the need to terminate termites in your home, call Arizona Pest Control. With more than 70 years' experience, our termite team has earned a reputation of getting the job done right. Termites are "silent destroyers" and will do damage without ever being seen by a homeowner. That's what makes them so destructive… until it's too late!
Although termites are not poisonous or toxic, they are very devastating to property. In fact, termite infestations are responsible for more than $5 billion in property damage every year – and the longer a home or business owner ignores the signs of termites, the higher the cost is to treat them.
There are signs to look for: If you see any evidence of termites in your home – like mud tubes, discarded wings, blistering wood or paint, or frass (droppings) – it's time to call Arizona Pest Control for a professional termite inspection. Careful assessment will reveal which of several termite species (subterranean, drywood or dampwood) may be in your home and which treatment will be most effective.
Here's why AZ Pest is the obvious choice for termite control in Catalina Foothills:
Our termite inspectors receive ongoing training to ensure residential and commercial customers receive the most advanced treatment technologies on the market today.
We are one of only a few Tucson operators authorized to use the innovative Presidential Green Chemistry baiting system that eliminates subterranean colonies by going directly to the source of the problem.
Our excellent standing with the Arizona Structural Pest Control Commission, and as an undisputed leader in comprehensive termite control in all of Southern Arizona.
Arizona Pest Control uses termite treatments that are safe around children, pets, plants and the environment. For dependable, guaranteed termite protection, call Arizona Pest Control at 520-886-7378.