Corona De Tucson Pest Control
In the foothills of the Santa Rita Mountains, and adjacent to the Coronado National Forest, sits Corona de Tucson – a jewel in the crown of beautiful Southern Arizona. Residents enjoy the out-of-the-way desert location and provincial atmosphere.
Arizona Pest Control Company can keep Corona de Tucson residents relaxed and happy by managing your year-round pest control needs. So when ants, bed bugs, cockroaches, wasps, bees, scorpions and spiders show up, they're in for a show down!
We understand the importance of peace of mind. Family owned and operated, Arizona Pest has been in the good-riddance-to-bugs business for more than 70 years. We're a trusted and dependable partner & member of the community, and offer free, no-obligation quotes quickly and reasonably. We're also proud to be:
Voted number one pest control service in Tucson by Arizona Daily Star readers year after year
A+ rated by the Better Business Bureau for three decades
Winner of Angie's List Super Service Award seven times and counting
Recipient of a #1 Google rating for Tucson pest control companies
Your health and well-being are important to us. Don't surrender to those pesky invaders; rely on Arizona Pest Control to come to the rescue. We're not satisfied until you are. Call 520-886-7378 for your fee estimate.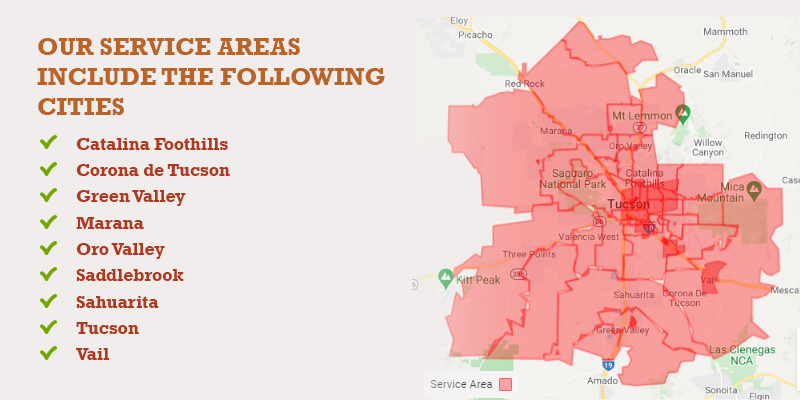 Corona De Tucson Pack Rat & Rodent Control
When it comes to defeating an adversary, they say "the best defense is a good offense." True with boxing, military maneuvers, sports and, let's not forget,… pack rats! These pesky critters, common in the Corona de Tucson area, may appear cute but are responsible for extensive property and landscape damage. It's not unusual for pack rats (also called wood rats) to nest in cars, air conditioning units or pool equipment and to sharpen their teeth by chewing through wiring. They'll destroy and gather pieces of household items like food or mattresses, pillows, etc. to use for nesting material. And, as their name implies, they like to hoard shiny objects for their dens.
Let Arizona Pest Control run the offensive against those rodents that cause damage and discord. You may see signs that you have pack rats on your property, but since they are nocturnal, it may not be as easy to spot where they live. Arizona Pest Control knows what it takes to safely and effectively remove these pesky rodents from your property. Using child- and pet-friendly methods, the certified and specially trained Arizona Pest Control technicians integrate pest management systems that work in harmony with nature.
Arizona Pest Control has been eradicating pack rats in Southern Arizona for more than 70 years – and is the most trusted name in service before, during and after the sale. Allow us to come out to your home or business and give you a free, no-obligation estimate today – call 520-886-7378.
Corona De Tucson Termite Control
At the first sign of termite infestation, call Arizona Pest Control. These pesky pests will not go away on their own and the damage they cause will only increase the amount of money you will spend  in home repair. Early extermination can minimize, if not avoid, costly restoration that is bound to be necessary if you wait too long.
Arizona Pest Control is the leader in termite inspection and treatment for more than 70 years. Family owned and operated, we care about your health and welfare. If not addressed, termites will not only cause destruction to your home, but can also trigger allergic reactions and asthma attacks.
Termites feed on damaged plants or wood, pool filtration systems, insulation, books, old papers, and of course, homes. They reproduce and swarm during the spring when you may see them on your property looking for new areas to colonize. A winged termite flying around your yard is cause for concern, but a winged termite in your home is a sign of infestation. Even though the non-winged termites are the destructive eaters, the winged variety are their mates.
Arizona Pest wants you to be informed about signs of termites. Here's what might signal you have a problem:
Winged termites indoors, emerging from the foundation or underneath the home
Mud tubes about the diameter of a pencil on foundation walls or wooden supports
Hollowed wood that may or may not have dried mud or soil in it
Tiny holes in drywall with soil around the rim
Dented trails in wallpaper are a sign of termites burrowing and traveling underneath
However, it is possible for termite infestation to be nearly invisible and undetectable to the homeowner. To be certain that your home is free from these pests, your best bet is to have an inspection done by a professional extermination company like Arizona Pest Control. A most trusted and awarded partner in pest and termite control since 1947, Arizona Pest Control technicians are professionally trained experts in managing termite infestations and preventing future problems. Let us provide a no-obligation on-site consultation and inspection.  Call us at 520-886-7378 for your free estimate.