Who wouldn't want to live in Oro Valley? Outstanding hiking in Catalina State Park and in the nearby Tortolita Mountain Range. Miles of bicycling paths and excellent mountain bike trails, a great place to pedal year-round. Whatever outdoor activity you choose, it's best to keep your eyes peeled during your excursions, as Oro Valley is rife with wildlife families including quail, coyotes and javelina. And, like any other Southern Arizona desert community, it's filled with pests you don't want to see, especially around your home – ants, cockroaches, wasps, bees, bed bugs, scorpions, spiders and the like.
Arizona Pest Control Company is an award-winning and trusted name in pest management. Family owned & operated, AZ Pest Control has been providing residential and commercial services to Oro Valley homeowners and all of Southern Arizona since 1947. Your neighbors in the Oro Valley community who have already turned to Arizona Pest Control for their pest management and servicing needs find that routine treatment keeps their home and yard insect-free from season to season. Here's why regular service is beneficial:
You may only see a few pests, but likely more are hiding out.
Helps eliminate diseases that are often carried by bugs and rodents.
Decreases health risks by mitigating allergies, asthma and itching.
Ensures full extermination on your premises year-round, enhancing peace of mind and improving sleep.
Whatever your needs are, the highly trained professionals at Arizona Pest Control Company provide one-time and recurring pest management services that are second to none, as evidenced by A+ Better Business Bureau ratings, Angie's List service recognitions, and many consecutive Arizona Daily Star Readers' Choice Award wins. Call Arizona Pest Control at 520-886-7378 for a free, no-obligation estimate today.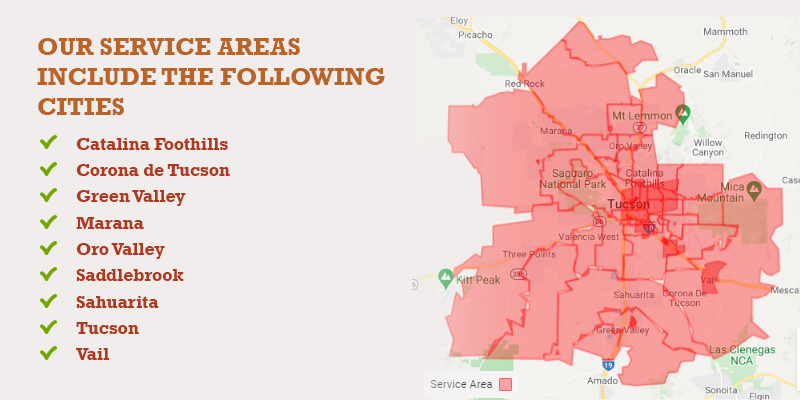 Oro Valley Pack Rat & Rodent Control
Like most Southern Arizona residents, people in Oro Valley enjoy being surrounded by nature and create yards that will attract creatures like birds, butterflies, and maybe some rabbits or a curious ground squirrel. Then a pack rat or two moves in, and that's when the destruction begins. Cute enough to look at, pack rats (also called wood rats) get their unusual name from their habit of stealing and storing household items. Trash and metallic objects, such as coins and keys, are favorite targets.
In addition to taking belongings, these pests create problems for homeowners with their nesting and feeding habits. Pack rats will often build nests under the hoods of cars, in the landscape and cacti, in large piles of wood or garbage, and even in attics. Chances are you won't actually see these nocturnal rodents, just the disruption and destruction they can cause – as much as thousands of dollars in damage to automobiles and property. Additionally, their nests can attract other pests such as kissing bugs, ticks, fleas, scorpions, and snakes, causing even more extermination problems!
Good thing Arizona Pest Control knows what it takes to safely and effectively remove these pesky rodents from your property. Using child- and pet-friendly methods, the certified and specially trained Arizona Pest Control technicians integrate pest management systems that work in harmony with nature.
If you suspect you have pack rats, Arizona Pest Control offers free estimates, sometimes the same day! Call 520-886-7378 to speak with a friendly AZ Pest Control representative.
Oro Valley Termite Control
Oro Valley has been touted as the eighth safest suburb in America and fourth best place to live in Arizona,  the OV Chamber of Commerce website proclaims. It's no wonder people choose this hidden "Valley of Gold" for its moderate climate, to find employment, raise their families or open a business.
Termites also choose Oro Valley, for its moist, warm climate and abundance of food sources. They eat not only wood, but plastic, paper, books and other plant-based materials. Subterranean termites are the species that build mud tubes, the easiest and most obvious way to spot you have a termite problem. Also, the appearance of discarded wings near wooden windows, doors or furniture can signal that termites live inside your home.
You should know what to look for, but you don't have to be an expert on how to get rid of them – leave that to the termite professionals at Arizona Pest Control. A most trusted and awarded partner in pest and termite control since 1947, Arizona Pest Control technicians are professionally trained experts in managing termite infestations and preventing future problems. When you work with AZ Pest, you know you are getting:
Industry-leading technology and methods backed by science
more than 70 years of pest control experience
technicians with extensive training and knowledge of termites and termite control
the most advanced, effective and efficient termite removal procedure – Sentricon Termite Colony Elimination System
a company in excellent standing with the Arizona Structural Pest Control Commission and an A+ rating with the Better Business Bureau, ensuring the highest standards of service
Strike gold in Oro Valley by choosing the award-winning and long-standing pest management professionals in Southern Arizona – Arizona Pest Control. Call today for an inspection and no-obligation quote. 520-886-7378