This is a winged Harvester Ant Queen.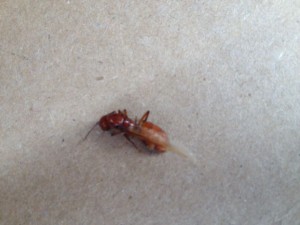 What is the difference between a termite and a flying ant?
Living in the Tucson region it's important to know the differences between the two! Here are 3 things to look at to determine if you are dealing with flying ants or termites: wing size, antennae shape, and waist size.Termites: Straight Antennae, Broad Waist, Both pairs of wings are the same size.Winged Ants: Elbowed Antennae, Narrow Waist, Front Wings Longer then Back Wings.
Still unsure about what you are dealing with? Don't sweat it, because Arizona Pest Control Company provides FREE pest evaluations to help you identify what insect you are dealing with! Call us today at 886-PEST to schedule a free in home evaluation. Or visit www.azpest.com and fill out the form on the right hand side.