Homeowners should be on the lookout for the following spider species:
Common House Spider: These spiders don't pose a health risk, but they can be quite a nuisance throughout the house. They spin a tangled web in upper corners, angles of window frames and around furniture.
Arizona Brown Spider:  AKA: 'Recluse' Loxosceles arizonicus The bite from a recluse can cause a very painful ulcer. These spiders can be found in many undisturbed areas around the home, such as inside boxes, under furniture and in seldom-used clothing or shoes.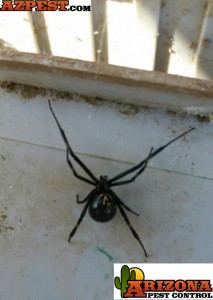 Black Widow Spider: Probably the most infamous species of spider, the black widow's venom can have serious side effects, especially in children and the elderly. Widows often build nests in cluttered areas within garages, attics and basements.
FREE IN HOME PEST & TERMITE EVALUATION. OVER 65 YEARS OF EXPERIENCE!