Scorpions –During periods of hot weather, scorpions can enter homes through wall voids and take shelter in cool areas like crawl spaces. They are known to sting as a defense mechanism. Humans usually experience only mild symptoms similar to those of a bee sting, but there are a handful of species such as the Arizona Bark scorpion whose sting can be fatal.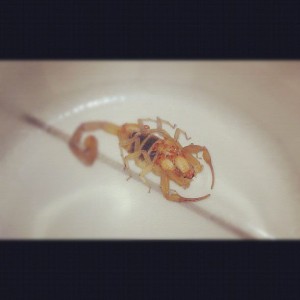 For more information on occasional pest invaders, please visit azpest.com/pest-control/
Do NOT walk around the home during the nighttime hours with BAREFEET! Check all shoes, folded towels, dresser drawers, closets on a periodic basis for scorpions. Check molding around all in door piping and repair if any holes are present. Keep all drains (tub, shower, sinks, etc) closed or sealed when not in use as scorpions have been known to come up through the drains on rare occasions.
Screen (with a tight mesh screen) ALL floor level return air or heater ducts. Remove face plate, insert pre-measured screen and replace face plate.

Schedule a free scorpion inspection today!