POSSIBLE PHYSICAL REACTIONS DO HUMANS HAVE TO SCORPION STINGS…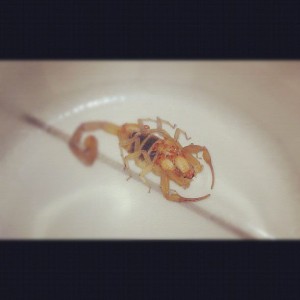 Reactions may vary depending on age or sensitivity of the individual and the amount of venom injected.
Adult reactions may include:
Immediate pain or burning
Swelling
Sensitivity to touch
A numb/tingling sensation
Rapid breaking
Persons stung during early March or April by scorpions just emerging from their winter hiding places may have pain that lasts for several hours, plus a general numbness in the area.  Scorpion stings may be red or slightly swollen.  Adults should seek medical attention if they begin to experience widespread symptoms.
Reactions can be more severe, and dangerous in children.  If children are stung, adults should immediately seek medical attention.
Children reactions may include:
Intense pain or tingling but little to no swelling
Muscle twitching or thrashing
Unusual head, neck and eye movements
Drooling
Sweating
Restlessness or excitability and sometimes inconsolable crying