Harmful nature of Africanized Bees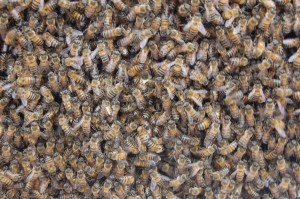 One might wonder what Africanized Bees would be doing here in the U.S. in a home as its reputation for violence precede it. Yet, thousands of these bees were found in a hive in an Arizona home that killed one landscape worker and injured others.
KOLD-TV in Tucson, Az reports that the call for help came in around 10:30 on Tuesday morning in the beginning of October 2014. Upon arrival, the team found several people stung by bees and two were taken to the hospital. However, the landscaper who was 32 years old was stung thousands of time went into cardiac arrest, according to a witness.
The victims were attacked from a range of 300,000 to 800,000 bee in Douglas, Az. After all was said in done, seven people were stung by bees including those who came to help. It was fortunate that an exterminator was working near the scene during the attack and helped to assess the hive.
According to the exterminator the hive housing the bees was massive and was two feet wide and six feet long in the rafters of the ceiling and attic. The hive was around ten years old. Even more horrifying was that according to KOLD-TV and Jesus, the hive was so outgrown by the bees that the bees were building another hive ten feet away from the original.
How did a hive stay that long unnoticed, especially with such a vast number of bees?
When Jesus Corella, the exterminator, went in to assess the hive, the bees went on the attack. Corella said the aggression of the bees wasn't helped with the loud noise of the lawnmower the landscaper had just turned on when the attack started.
The home where the hive was located was home to a 90 year old who was safely escorted from the home without a sting by firefighters. While the Douglas fire chief said they are prepared to hand calls about bees, there hadn't been anything like this call before.
"We've never, ever experienced anything of this magnitude," Novoa said, the fire chief.
http://www.theblaze.com/stories/2014/10/09/horror-as-800000-africanized-bees-go-on-a-rampage-and-kill-a-man-in-arizona/
http://www.tucsonnewsnow.com/story/26740337/landscaper-killed-by-swarm-of-bees-hive-of-800000-bees-in-attic-of-house-in-douglas