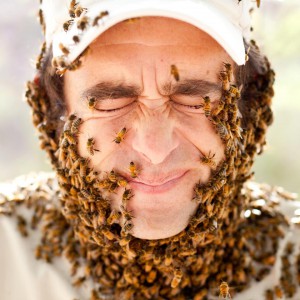 SOUTH TUCSON – Somebody called 911 after a bee colony in a vacant building got out of control.
Javier Fimbres lives next door.
"They've been chasing us," he said. "It's scary. They poked me in the head a couple times."
Officials found the landlord who is paying Arizona Pest Control to remove the hive. Josh Tennenbaum used a pesticide to kill the bees in the building.
"These are actually pretty aggressive," he said. "They were in the process of swarming when we started messing with them, so they weren't real happy about that."
He wore a bee suit and says people should never try to do the job themselves.
"You're going to lose control of the situation real quick," Tennenbaum said, "and you're going to have a dead dog, angry neighbors or even worse, somebody's going to get hurt."
The South Tucson Fire Department checked on Tennenbaum while he was working. Capt. Andy Luna said the colony has been a problem for years, but they were especially aggressive lately.
"We do have a foaming process that we can do to extinguish the hive," he said, "but it's only in an emergency situation."
That might temporarily solve the problem, but another colony will likely come back if the hive is not completely removed.
Somebody apparently sealed the building with foam before, but the bees chewed through it.
Tennenbaum will come back to clean it out later. He thinks it is spread throughout the wall and roof of the building. It might be a difficult job to do correctly.