TUCSON – Bees killed 2 dogs near Speedway Boulevard and Craycroft Road Saturday.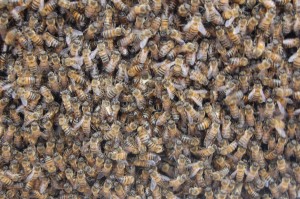 Rod Rios came home from a bike ride and found the bees attacking his dogs, Gypsy and Atlas.
"They got along great, and they meant a lot to me," Rios said. "So it really, really hurts a lot."
The bees also chased him down the street, and he called 911. Tucson Firefighters sprayed the swarm with foam but it was too late.
Rios called Arizona Pest Control to find the problem. Josh Tennenbaum is the company's bee specialist. He eventually found the hive in a block wall in the nearby alley.
Somebody had apparently just used spray foam to seal it closed. The foam was still sticky and bees were still trying to return to their home.
"They lost communication with the rest of the hive," Tennenbaum said. "They're freaking out. They don't know what to do. They're angry. They're just going to start swarming and attacking everything that's moving."
He said he would have used pesticides that would not anger the colony. He also said the bees can chew through the foam, and they will probably return next year.
"Bees communicate through pheromones, so once you get that pheromone smell in there, it's never going to leave that area," Tennenbaum said. "So best thing to do would be seal it up with concrete."
Tennenbaum said that job would have cost about $150. But since he could not treat that hive, he did not charge Rios.
"I guess this is just a lesson to everybody that they shouldn't be messing with something they don't know anything about," Rios said. "And now my dogs are gone because of it."