Looking for a pest control job in Tucson?
AZ Pest Control is Seeking A Full-Time Pest Control Technician in Tucson!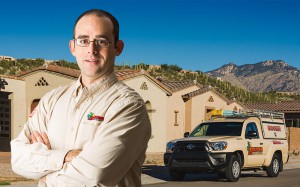 Technicians service commercial and residential accounts. Work days are Monday through Friday and one Saturday a month. Technicians must have excellent communication skills, time management skills, the ability to maintain clear, concise and accurate records, and have a team oriented attitude.
All Technicians must become state certified in both termite and pest control by the Arizona State Pest Control Commission, within 90 days of employment. (Training Provided) All technicians are required to attend industry seminars throughout the year to keep updated on current trends and chemical usage. All employees are subject to a drug test, they must not have a criminal record (felony or DUI convictions), or have an unacceptable driving record over the past five years. They are responsible for maintaining their vehicles, customer relationships, volunteering in the community, and appear in proper uniforms and professional during all working hours representing the Arizona Pest Control Family values.
BENEFITS:
Pre-set appointments
Paid Vacations/sick time
Unlimited earning potential (Starting Pay is $10.00-$12.00 per hour based on experience)
Car Allowance
Simple IRA Retirement Plan (Matching)
Health, dental, & disability insurance
Please send your resume and cover letter as to why you are qualified for this job to mredwards@AZpest.com
EOE: Women encouraged to apply!
After hours interviews are available!!
Location: 1127 N. Rook Ave Tucson AZ. 85712