ARIZONA PEST CONTROL HELPS TO "EXTERMINATE" BREAST CANCER!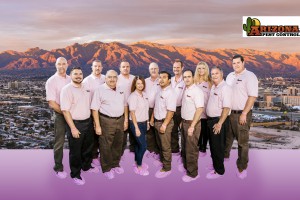 Tucson, AZ – With the goal of helping to "exterminate" breast cancer, employees of Arizona Pest Control will wear pink during the month of October to help promote breast cancer awareness. "I wish that every business would promote breast cancer awareness during October," said Bruce Tennenbaum, of Arizona Pest Control. He added, "As members of the community, it is our job to do everything we can to eradicate this disease. I am very proud of our staff for their enthusiastic response."
Locally owned and operated in Tucson since 1947, Arizona Pest Control uses the latest, most technologically advanced methods of pest elimination available to the industry. From termites, flies, pigeons, scorpions, spiders, pack rats, wasps, bees and much more, we are proud to be your COMPLETE desert pest management specialists.